By popular er... demand -
Take That
, the sequel.
Making a boy band, according to Take That.
*insert your favourite boy band here*
" My name is The Manager. I'm going to create a boy band. My boy band will achieve fame on a grand scale. Their music will dominate the popular charts and their faces will adorn the walls of millions of teenage girls across the globe.
When manufacturing a boy band, the first thing you need is the right selection of boys.
In order to guarantee maximum success, each boy has to adhere to a specific set of fundamental rules. The rules are, as follows:
Rule 1;
The boys in the boy band must love, honour and obey their manager and must have no other manager but me.
Rule 2;
They must sacrifice their privacy.
Rule 3;
The boys must
not
have girlfriends.
Rule 4;
Some of the boys in the boy band will have to take one or two years off their real ages.
Rule 5;
The boys must always be ambiguous about their sexuality, never confirming their sexual orientation will encourage the homosexual sector of the market.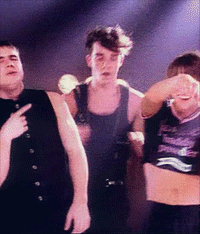 Rule 6;
They must always be prepared to smile.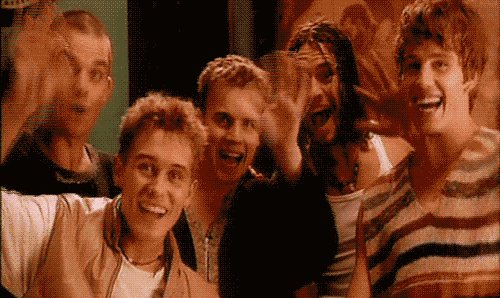 Rule 7;
Never complain, always appear gracious, humble, the boys next door.
Rule 8;
The boys must be prepared to wear make-up.
Rule 9;
They must never become too close to one another, they must never become real friends just in case one of them breaks down and has to be discarded.
Rule 10;
The most important rule of all: The boys in the band must all be very, very...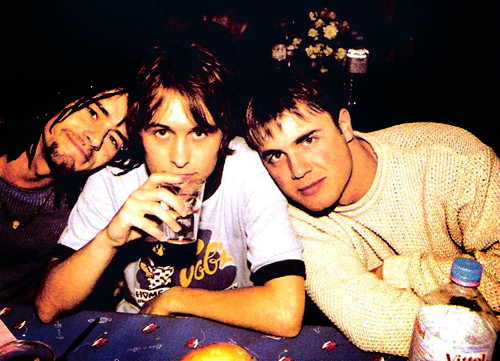 ... pretty.
Okay, we have our boys, we have our audience, now what we need is a groove. Is this a groove? Are we having
the groove
? Let's groove.
Okay, we have our groove. Now we need to be able to move. Can a boy band dance? Can a boy band... break dance?!
Okay, but a real boy band must be able to perform a dance routine, which includes
all
the members of the band, including any members that are reluctant to dance.
Now that's good, you really are beginning to look like a boy band. But can you sound like a boy band? Can a boy band sing?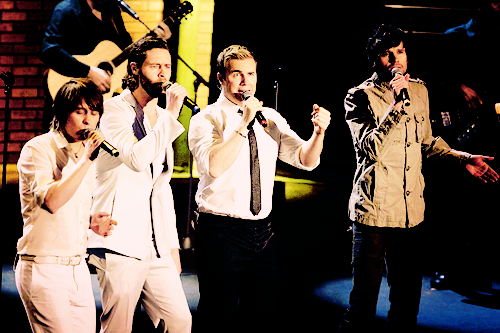 Ladies and Gentlemen, we have our boy band. Please welcome for your entertainment... TAKE THAT! "
And when it all stops...
" What are you up to now, are you keeping busy? "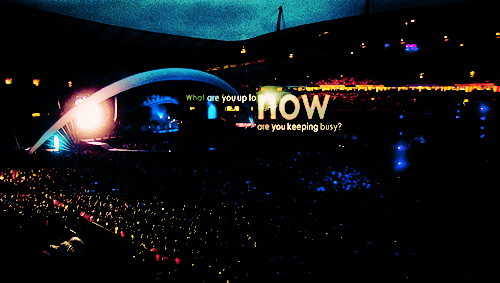 " I'm not being nosy, but did you make a shitload of money? "
" Are you still working in the music industry? "
" Did you make enough to never have to worry?
" I'm not being funny, but I bet you had a load of groupies. "
" Do you still speak to Robbie? "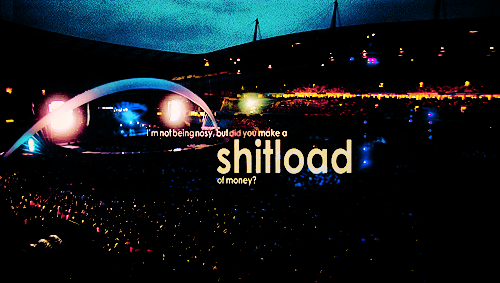 But sometimes, just
sometimes
life gives you a second chance.
Jason:
" I was really scared about coming on tour, for lots of reasons. Maybe cause I'm just a scaredy cat. Well I'm so glad I didn't ball out, cause I'm having a brilliant time and it looks like you're having a brilliant time. "
Howard:
" When I was playing the piano I was looking out at everybody; which if you are up there to see is absolutely unbelievable, beyond our wildest dreams to see this many people. And I was thinking how lucky us four guys are, we are so so lucky. To be given a second chance as well and to sell out all our tickets. Thank you so so much everybody. You make our dreams come true. "
Mark:
" Can you believe it, 10 years on we're back here again? I just wanna say thank you for this, you know, as Howard said, this opportunity to come back. We're having the most amazing time you know. When we did the documentary a few months ago we had no plans to do anything else and we were all... we were all shit scared you know when that documentary came out. The reaction has been so good that we thought... we had a few drinks one night and we decided.., wine, gin and, what were you, Jack Daniel's of course, gin and tonic I think you.., vodka and tonic. Alcohol made us come back to tour. We got very excited one evening drinking a few drinks so that's why we're here. Jason was the only sober one. "
*found somewhere on the Internet; agreed with every word*
Was never a fan. Never thought I would be.
BUT
Just watched them on TV - part of their tour (from Manchester) - and they really were terrific. I don't remember them being as good as this. Maybe it's because they're ten years older!
Their singing was excellent - they looked like they were having a fantastic time - their dancing was superb (even Gary's). And the crowd, thousands and thousands of them, loved every minute.
So all you boy-bands out there, take a look at the Masters - and learn. And should you only learn one thing, please let it be that at least you look like you wanna be there and you're enjoying yourself.
Welcome back Take That. I never thought I'd say this, never.
One can only hope for more~.
" I know the guys are older and more mature now but what wouldn't I give to see them wet with their clothes clinging to their bodies. Sigh. "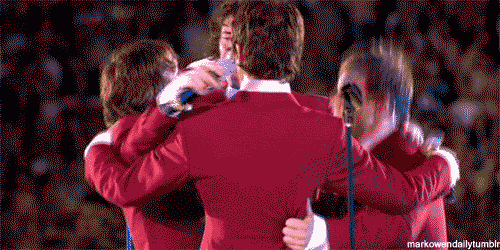 © hellyeahtakethat © fuckyeahmarkowen © markowendaily © hellyeahrobbiewilliams @ tumblr
♥:
restless
♫: Take That - Babe